Nuclear Accelerated Generator Isotope Alpha Field
Link Back to NAG: Home Page Link to Origins Law Patents: TheAtomicBattery.com
This documents is a general overview of how the basics of the Isotope Alpha Field works in the nuclear magnetron. The Isotope Alpha Field is part the ejection system the nuclear isotope produces for use with the oscillations chambers of the nuclear anode power resonators. The nuclear magnetron has several oscillation chambers to extract the energy from the ejected electrons and / or alpha particles that pass by the oscillation chamber or slots that make up the oscillation chamber.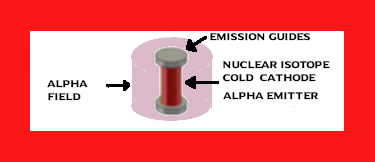 The Question: What does the electron field look like when it producing electrons.?
The Question: How does the magnetic field interact with the alpha field from the isotope.?
The Question: Does the alpha field have defined properties in a Nuclear Magnetron.?
Yes it does. The alpha field have currents, voltage of the alpha emission, impedance and other factors in its use. These properties mostly follow standard magnetron design for the finite elements of the resonators in the nuclear anode. But there are other properties that are not part of standard magnetron design and only happen in nuclear magnetrons.
The Question: Does the alpha field work like the electron field in a Nuclear Magnetron.?
Looking at the same aligned magnetic field in a nuclear magnetron the alpha particles will spin backwards from the electrons because the alpha particles have a positive charge on them.

The alpha particles also do more damage over time to the resonators than electrons do, because of the size and weight of the particles. Size matter in physics when it come to damage of other atoms.